JUST DESSERTS: A Collection of Bite-Sized Delights presented by SecretHungers.com
Just Desserts is a buffet of deliciously naughty stories. These delights are as diverse as the authors who write them. It is my pleasure to reveal two of the more than twenty contributing authors to Just Desserts-debut, new, multi-published, award-winning and bestselling authors. ENJOY TODAY'S SPECIAL! Today, we feature two multi-published authors. Take a moment to get to know them.
---

Captivated: Return to Earth by Ashlynn Monroe
A stand-alone erotic short story from the Captivated Series
Science Fiction, Romance, Erotic
#captivated, #erotic, #ménage #scifi, #erotic
Francesca Dehart has rescued the three men she loves from the hellish mining colony, Utopia. Cade, her strong leader, was the first to win her heart. Nebraska burned her with his lust, and Dawson loved her first and hardest. Franny has them in her home. Her futuristic world is beyond anything the men expected after living a rough, primitive existence. Chicago is a city of progression, but old values still make her living arrangements unacceptable to many. With the media scrutinizing them Franny longs to make the world understand. Is the love they've found worth the battle and struggle to hold on, or will Franny give up on having her own little piece of utopia?
Get to know Ashlynn
Ashlynn Monroe has been dreaming up stories all her life. She's a busy mom with a full time job, fantastic friends, and a unique sense of humor. She's just a regular girl who's in love with the idea of happily-ever-after. She's honored to be multi-published by some of the best electronic publishers in the industry. Ashlynn survives each day by dreaming up her next tale of romance.
This sexiest food is:
Chocolate: It makes everything more decadent.
Five things you'd be surprised to know about me:
1: I am a student, but still manage to find time to write. 2. I work full time, but still manage to find time to write. 3. I have been married to the same man since I was twenty years old. 4. I like camping. 5. I never leave home without reading material--ever.
The sexiest place in the world is:
Any place is sexy with the right person.
Follow Ashlynn
Other Works by Ashlynn - Click cover to see listing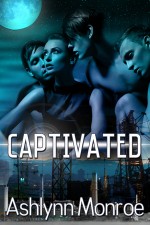 ---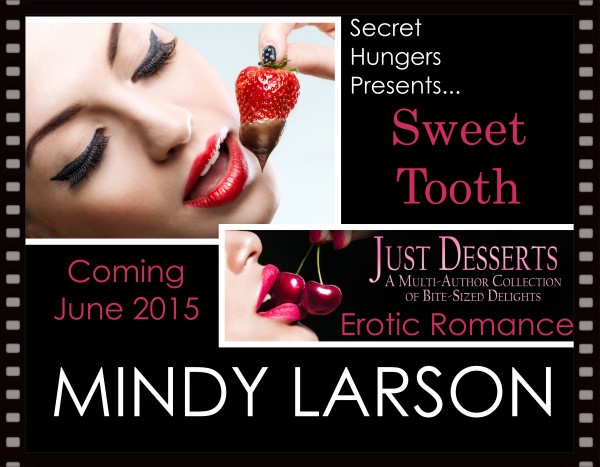 Sweet Tooth by Mindy Larson
Stand-alone Erotic Short-Story
Paranormal Erotic Romance
#vampire, #dentistfantasy, #paranormalromance, #soulmates, #chocolate
Meet Pastry chef, Finley Cooper and her dark lover, Beck Overly. Dentist by day. Vampire by night. The two errant souls have met before. Many times. In many lifetimes.
Finley's wicked sweet tooth has gotten her in trouble before but never like this, luckily, Dr. Overly 'Hot' has just what she needs. Beck has a sweet tooth all of his own, a feigning taste for his irresistible Finley. He seduces her with the one thing she can never say no to: dark chocolate. Neither Finley or Beck can ever be satiated with the other near by. Can Beck convince her to join him in his path of lust and seduction? Or will her sweet tooth get the best of them both?
Get to know Mindy
Mindy Larson has always had a vivid imagination that has only improved with her love of reading and writing. She spent much of her childhood entertaining her three younger brothers with her stories and today she is bringing her imagination to life in books.
When not writing, Mindy enjoys spending time with the love of her life and five children while playing disc golf, cooking, baking, traveling and exploring.
The sexiest food is:
Chocolate. The darker the better! It's decadent. Alluring. Irresistible. And I always feel as I'm giving into the forbidden, since the lovely flavor always lingers on my tongue long after I've swallowed my last bite I only need a small amount to satiate my craving.
Five things you'd be surprised to know about me:
My favorite place to visit is the beach but I rarely get in the water. I'm happy to just sit with my toes in the sand and stare at the waves rolling in and out

I'm nearly blind in my left eye

Listing my five has been more difficult than writing any of my novels

I have to have chocolate everyday

I used to be blond but I can honestly say I have more fun being auburn
Sexiest place on earth is:
Italy.. I've always wanted to go there. The food. The people. The priceless works of art. And of course the breathtakingly beautiful scenery. There's no place sexier than that!
Follow Mindy
Other Works by Mindy - Click cover to see listing