---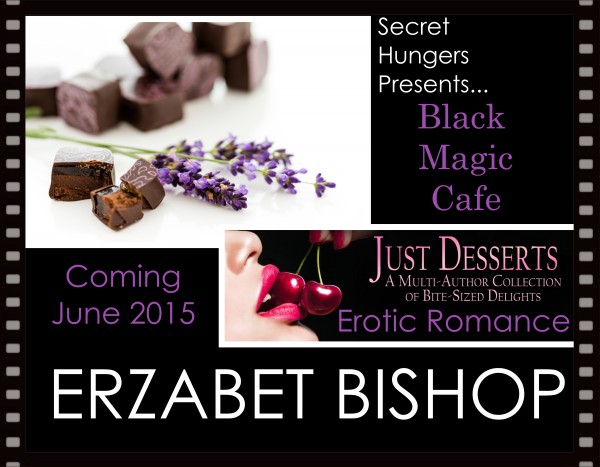 Black Magic Cafe by Erzabet Bishop
A stand-alone erotic short story.
Paranormal, M/F, Werewolf, Shifter, Witch, BBW
#witch, #werewolf, #shifter, #chocolate, #magic, #moonlight, #love, #lovespell, #BlackMagicCafe, #Blackmagiccake
A Thibedeaux wolf and a Conway witch…
Elodie Conway is the owner of The Black Magic Café, where love and chocolate go hand in hand. When journalist Jason Thibedeaux runs a critique of her business all is fair in love and war when there's magic under the moonlight.
Get to know Erzabet
Erzabet Bishop is the author of Sigil Fire, Written on Skin: A Sigil Fire short, Fetish Fair, Temptation Resorts interactive erotic romances, Holiday Cruise, Gingerbread Dreams, Pomegranate (upcoming), Red Dress, Holidays in Hell, Sweet Seductions: The Erzabet Bishop Collection and multiple books in the Erotic Pagan Series. She is a contributing author to Club Rook, Taboo II, Hungry for More, Potnia, Wicked Things, Unwrap These Presents, A Christmas to Remember, Forbidden Fruit, Sci Spanks, Spank or Treat, Sweat, When the Clock Strikes Thirteen, Bossy, Cougars, Can't Get Enough, Slave Girls, Gratis III, The Big Book of Submission, No Safewords II, Gratis II, Anything She Wants, Coming Together: Girl on Girl, Coming Together: For the Holidays and more. She was a dual finalist for the GCLS awards in 2014. She lives in Texas with her husband, furry children and can often be found lurking in local bookstores.
This sexiest food is:
The sexiest food has to be chocolate. You can drizzle it over just anything and I do mean anything...
Five things you'd be surprised to know about me:
1. I love to knit and crochet when I have time between deadlines. 2. My house is run by my furry canine children. 3. By day I am a mild mannered bookstore manager. By night I write to free my soul... 4. I can roller skate backwards without falling. 5. I have a POP collection of witches on my desk and I am a Mac lipstick addict.
The sexiest place in the world is:
If I could choose anywhere in the world I think it would be a luxury hotel room with room service, walks on the beach at night and a shopping spree that involved Mac lipstick, strappy silver heels, red lingerie and chocolate covered bacon. And strawberries.
Follow Erzabet
Other Works by Erzabet - Click cover to see listing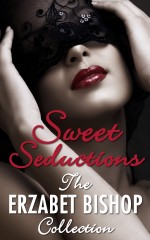 ---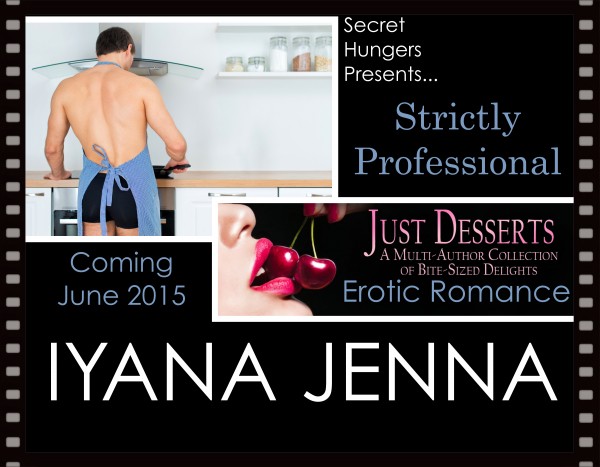 Strictly Professional by Iyana Jenna
Stand-alone Erotic Short-Story
#gay, #glbt, #mm, #romance, #contemporary, #designer, #envious, #boss
Zane Kotsky is a senior graphic designer at Downey Bags. When the company is extending its market, they pick someone from outside to be the head of the art department instead. Before Joachim Wessling turns up at the company to be his new boss, Zane, is heartbroken and envious. But that was then.
Get to know Iyana
Iyana writes M/M short stories and novellas. Her works have been published by Evernight Publishing, JMS Books, Books to Go Now, Torquere Press, Bitten Press, Leap of Faith Publishing, Breathless Press, and Alfie Dog Fiction.
Iyana is a dreamer who lives in Jakarta, a city famous for its traffic jams, a lot of cars and motorcycles, and people selling stuff on the roads. You can spend two hours on the road going to a place you can reach in half an hour in a normal situation. Thanks to the traffic jams, though, Iyana can come up with a lot of stories, mostly shorties, as she prefers to spend the time during her trips writing into her cell phone rather than sleeping.
The sexiest food is:
I think the sexiest food is moist, decadent chocolate lava cake melting on top of a naked male's muscled chest. Why? Do I need to explain? :)
Five things you'd be surprised to know about me:
1. I snore. Loudly. 2. I spend more than one hour to shower. 3. I can sleep anywhere. I don't know the meaning of 'amnesia.' 4. I'm afraid to take buses in Jakarta to go places. 5. I like cheesy movies perhaps because I love cheese. :)
Sexiest place on earth is:
I think it would be in a country house in an English/German countryside. I can imagine the smell of the wet soil and fresh bread and milk. I don't know why I like that kind of place. It's just that I've never been there so I think it would be very romantic.
Follow Iyana
Other Works by Iyana - Click cover to see listing