EVERYTHING CHANGED IN AN INSTANT.
I thought I knew what was important, but one phone call sent my life into a tailspin.
Alone and afraid, I cling to the one man I shouldn't.
I was warned about him and told to stay away. "He's dangerous," they said.
But the man who could hurt me the most, gave me the greatest comfort.
"He's not who they think," I told myself.
But just like an illusion, things are never what they seem.
One of the best thing about social media for a book lover is being able to reach out to your favorite authors and tell them, as personally as you can, how much you enjoyed their book. This was the case for me at
11:58pm
last night. I private messaged the amazing Chelle Bliss and yelled at her. It's true. I also informed her that I was sending her my Kleenex bill. I blew through her latest masterpiece, Enshrine. I was giddy when I got home from work and saw that the ARC had arrived on my kindle.
Enshrine is the story of Callie and Bruno. Callie is fiercely independent and happy with her life. She has a great job, amazing apartment, an even more amazing shoe collection and her best friend Becca. All is right with her world. Bruno is known as The Butcher. No one knows exactly what he does, but intensity and danger roll off this devastatingly handsome man in waves. Callie and Becca know of him, have seen him, but know well enough to stay away.
Everything changes in an instant when Callie hears the one word that no one ever wants to hear. She's in a fight for her life, but how does she fight something who doesn't want to just damage you, but kill you? As much as Callie tries to fight by herself, Bruno shoves his way into her life to make her beat the odds.
As I told Chelle last night, in the literary world, for the most part... it's all a fantasy. Women don't get cellulite. Men are always overly well endowed (Hey, Bruno is no different). The wall flower, the secretary, nurse, etc... always meet the handsome billionaire and gets whisked away to Hawaii and live happily ever after. While Enshrine does have some of that (Hello??? Bruno???!!!!), this book is also REAL. Yes, people get sick. Yes, people die. But people also fight. They battle. When they feel like giving up, their friends and loved ones fight for them. This is what makes Enshrine beautiful. Oh the feels this book gave me. I loved Callie because she was real. We, as the reader, go on this heart wrenching journey with her. We cry with her, get angry with her (and quite frankly AT her). I, personally, even got weirded out by Bruno. While I wished, at points, we'd get more of Bruno's perspective, this is not his story. Ultimately, it's Callies's
Besides the hunky Bruno, there's Becca. She's funny, protective, loving and yes, a tad annoying, but who isn't? I have to say though, meeting Bruno's family is a rather uplifting part of the book. Lord how I wish I had a family like his. Loud and loving with absolutely no filter, you can't help but laugh along with them.
Enshrine is probably not what you've come to expect from Chelle. While we all love the Gallos and the men of ALFA PI, Enshrine is in a whole other league. It will break you down and put you back together. It's a must read for 2016. I give it 5 big, beautiful, shiny stars.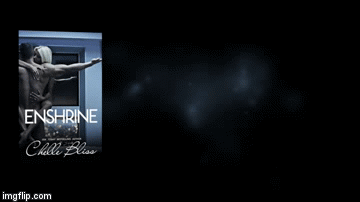 Available at the following retailers
ENSHRINE GIVEAWAY - OPEN INTERNATIONALLY
ABOUT THE AUTHOR
USA Today Bestselling author, Chelle Bliss, currently lives in a small town near the Gulf of Mexico in Florida. She's a full-time writer, time-waster extraordinaire, social media addict, and coffee fiend. She's written over ten books and has two series available. She loves spending her free time with her boyfriend, 2 cats, and her hamster.
Before becoming a writer, Chelle taught high school history for over ten years. She holds a master's degree in Instructional Technology and a bachelor's in history. Although history is her first love, writing has become her dream job and she can't imagine doing anything else.
ALSO BY CHELLE BLISS