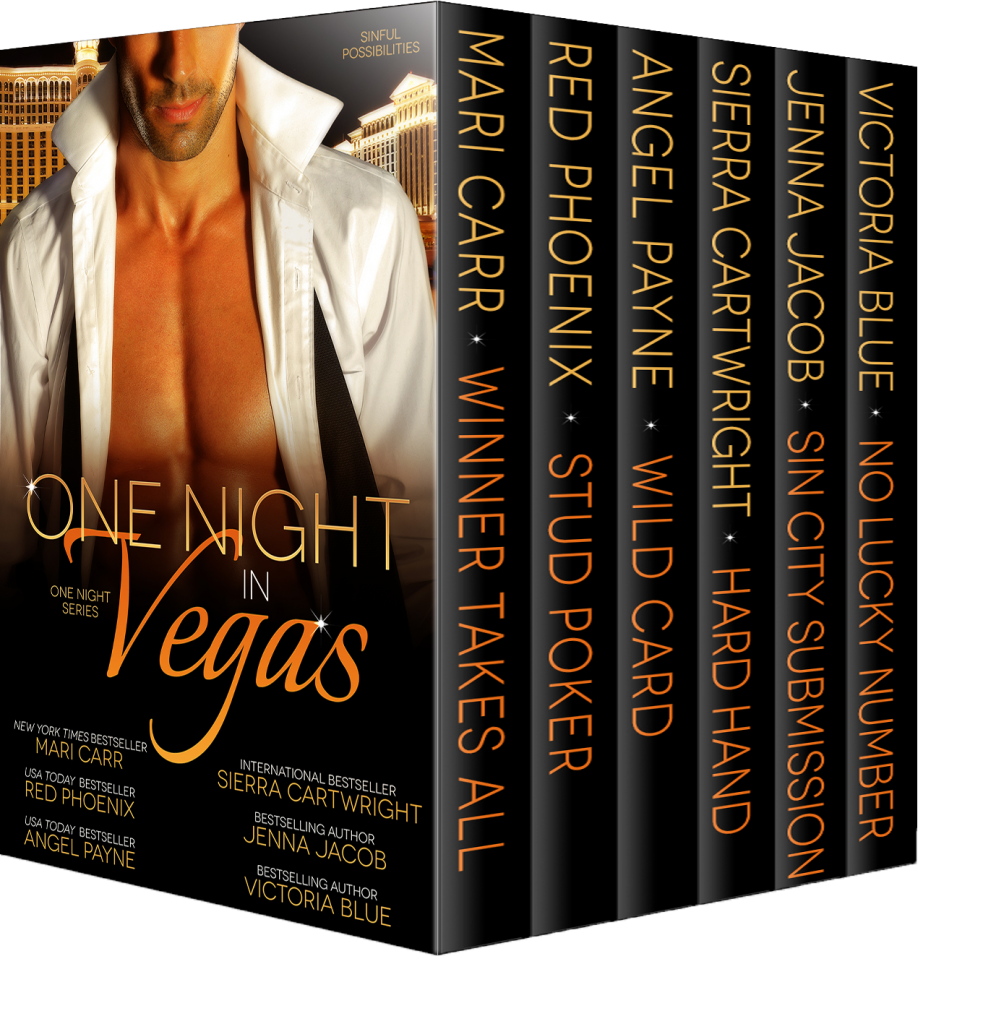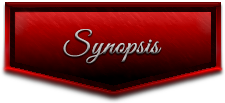 One of the most exciting romance box sets of the year is here--for a very special pre-order price!
Six BRAND-NEW stories of desire. domination, passion, and life-changing love... What if…you had only one night to make your fantasies come true, and one place to do it in?
What if…that one place was the most stylish, exclusive hotel in Las Vegas, Nevada? The Nyte, Las Vegas' newest and most stunning resort destination, is owned by the mysterious Mr. Nyte, committed to making every one of his guest's fantasies come true.
Sinful possibilities…
A group of your favorite spicy romance authors have let their imaginations run wild inside this glittering, limitless world, imagining one night in which passion and love change people's lives forever...
Winner Takes All by Mari Carr
Noah enters Food Fight, a new cooking competition show airingon the Food Network. When he makes it to the finals, he scores a trip to Vegasto compete. Problem is fellow finalist Hollie has captured his attention—in andout of the kitchen.
As the competition heats up, so does the sexualtension between Hollie and Noah. One night in Vegas, their simmeringneed explodes into full boil. But in this contest, winner takes all. Willthey choose fame over forever? Or will they claim an even bigger prize?
Stud Poker by Red Phoenix
Brad Anderson, newly appointed headmaster of the Submissive Training Center and cowboy at heart, is about to experience the mystery and magic of Vegas. He heads to the opulent Nyte hotel with his feisty companion, a furball named Cayenne, not knowing that a request for a simple massage will lead him into private game of stud poker. In honoring his bet to scene with the shy redhead, Shey Allen, the handsome Dom will be risking far more than a sleepless night. Her big blue eyes have captured his heart—is it possible love is not far behind?
WILD Card by Angel Payne
White lace and promises…
Jen Thorne is more than ready to help her best friend tie the knot, sumptuous Vegas style—until she shows up at the rehearsal and catches sight of a surprise guest to the festivities. Sam Mackenna, a Scottish RAF pilot on loan to the Air Force for cross-training, has been the object of her secret erotic fantasies for months. But even with romance in the air, a hunk like him is hardly likely to choose a geek like her.
A kiss for luck…
When Sam and she are unexpectedly alone, the gray-eyed warrior entices Jen to share her deepest fantasies—then throws the wildest card of all into the mix. He wants to the chance to make as many of them come true before dawn's light. One night. The man of her dreams. A wild card worth playing, or an invitation to the biggest disaster of them all… What if her heart gets shuffled into the deck?
Hard Hand by Sierra Cartwright
A daring adventure… For years, Avery Fisher had been intrigued by the handsome, powerful Cole Stewart. Even though she's fantasized about being beneath his lash, she's never been brave enough to approach the renowned Dom. But tonight, she's hidden behind a mask at a glittery ball, and that gives her the confidence to be someone she's not. Cole would know Avery no matter how clever the disguise. Intrigued by her deception, he plays along, determined to give her exactly what she needs. But at the end of the night, he will demand she reveal everything, not just her identity, but her true nature and the need for his dominance.
Sin City Submission by Jenna Jacob
For Quinn MacKinnon, playing with Ava Gibbs's body is easy. Playing with his beautiful submissive's mind will take far more patience and creativity. Gambling their future, he plots to test her limits, relishing the opportunity to push her harder than ever. With one sexy dare after another, Quinn thrusts Ava into an extraordinary sensual journey. In a battle of wills, he wages a war for her heart. Can he persuade the strong-willed woman to surrender and become the submissive of his dreams?
No Lucky Number by Victoria Blue
Business trip or trip of a lifetime? Talia Perizkova has been working for this moment her entire career. Now, she finds herself sandwiched between two of the most eligible bachelors in the country and can barely focus on the task at hand. And that's fine by Drake Newland and Fletcher Ford. They've been all business around the office, but when they get Talia to themselves off the clock, things really heat up. Now if they can just convince her a three-way relationship could really fit into her world.Will Talia take a chance on her newly discovered feelings or is their weekend of passion destined to end them before they have a chance to begin?
BARNES & NOBLE & KOBO AVAILABLE ON RELEASE DAY
Mari Carr
Writing a book was number one on Mari Carr's bucket list and on her thirty-fourth birthday, she set out to see that goal achieved. Too many years later, her computer is jammed full of stories — novels, novellas, short stories and dead-ends and she has nearly eighty published works. Virginia native and high school librarian by day, Mari Carr is a New York Times and USA TODAY bestseller of contemporary erotic romance novels.
Red Phoenix
Red Phoenix is an award-winning erotica author who gained popularity with her novel, Brie Learns the Art of Submission. She has won 5 reader choice awards for her various novels. When she is not writing, you can find her on Facebook or Twitter interacting with fans.
Angel Payne
USA Today
bestselling romance author Angel Payne has been reading and writing her entire life, though her love for romances began in junior high, when writing with friends on "swap stories" they'd trade between classes. Needless to say, those stories involved lots of angst, groping, drama, and gooey kissing. She began getting a paycheck for her writing in her twenties, writing record reviews for a Beverly Hills-based dance music magazine. Some years, various entertainment industry gigs, and a number of years in the hospitality industry later, Angel returned to the thing she loves the most: creating character-based romantic fiction. Along the way, she also graduated with two degrees from Chapman University in Southern California, taking departmental honors for English, before writing five historical romances for Kensington and Bantam/Doubleday/Dell. Angel found a true home in writing contemporary-based romances that feature high heat and high concepts, focusing on memorable alpha men and the women who tame them. She has numerous book series to her credit, including the
Kinky Truth
series, the
Secrets of Stone
series (with Victoria Blue), the
W.I.L.D. Boys of Special Forces
series, and the acclaimed
Cimarron
series.
Temptation Court
, a new series being launched through the Dark Nights Discovery project, debuts in 2016. Angel still lives in Southern California, where she is married to her soul mate and lives on a street that looks like Brigadoon, with their awesome daughter and Lady Claire, the dog with impeccable manners. When not writing, she enjoys reading, pop culture, alt rock, cute shoes, enjoying the outdoors, and being a gym rat.
Sierra Cartwright
Winner of the 2013 Best BDSM Book of the Year award (Over The Line), the 2014 LASR Book of the Year award (In The Den), and the 2015 Golden Flogger (Crave), Sierra was born in Manchester, England where she spent her early years traipsing through castles. After living in Denver for a number of years, the internationally acclaimed author now calls Galveston, Texas, home. She loves the way history blends with Southern manners (being called "sugar" is an experience unto itself) and rich pirate lore. She invites you to join her on a sensual journey where the limits are explored and expanded.
Jenna Jacob
Bestselling author, Jenna Jacob paints a canvas of passion, romance, and humor as her Alpha men and the feisty women who love them unravel their souls, heal their scars, and find a happy ever after kind of love. Heart-tugging, captivating, and steamy, Jenna's books will surely leave you breathless and craving more. A mom of four grown children, Jenna and her Alpha-Hunk-husband live in Kansas. She loves books, Harleys, music, and camping. Jenna's zany sense of humor and lack of filter exemplify her motto: Live. Laugh. Love. Meet her wild and wicked family in her sultry series:
The Doms of Genesis
. Or become spellbound by the searing love connection between Raine, Hammer, and Liam in her continuing saga:
The Doms of Her Life
(co-written with the amazing Shayla Black and Isabella La Pearl). Journey with couples struggling to resolve their pasts and heal their scars, to discover unbridled love and devotion in Jenna's new contemporary series:
Passionate Hearts
.
Victoria Blue
Victoria Blue lives in her own portion of the galaxy known as Southern California. There she finds the love and life sustaining power of one amazing sun, two unique and awe inspiring planets and three indifferent, yet comforting moons. Life is fantastic and challenging and everyday brings new adventures to be discovered. She looks forward to seeing what's next!