Imogen is Dark Blessed… and bad things happen to those who are Dark Blessed… When Imogen returns to her second year at Callador, she immediately senses the looming, threatening darkness embracing her school. A vision from last year promised yet another death, but the killing won't stop there. If Imogen can't figure out who the killer is, the murders may never stop. And her friends might be next. Her only hope for saving them lies in her curse of being Dark Blessed, but revealing her true nature could destroy her life forever. But what's a girl to do when her number one suspect is the guy she doesn't even realize she's falling for?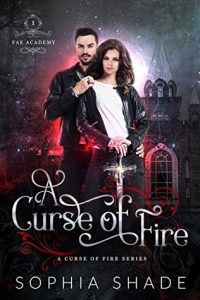 A Curse of Fire Book One
Sophia Shade is the enchanting author of the Fae Academy world. She lives beyond the Shadow Veil with the students, teachers, and creatures who attend Callador: Academy of the Aos Sí. When not writing, she spends her time battling darkness to save her newfound friends and family from the mysterious force that wants to drain all magic from Faerie once and for all.